Here's to another goddamn new year.
The top grossing films of 2018 were related to comic books (Black Panther, Avengers Infinity War, Deadpool 2, Venom, Aquaman), horror films (Insidious 4, The Nun), adaptations (Ready Player One, Crazy Rich Asians, The Grinch) and franchise legacies (The Incredibles 2 , Mission: Impossible Fallout). On the lower end of the AMC A-List you had a year peppered with some of the strongest documentaries that broke convention (Hale County, This Morning This Evening; The Road Movie, Minding the Gap, Bisbee '17, Caniba), box office (RBG, Won't You Be My Neighbor?, Free Solo, Three Identical Strangers) and release format (They Shall Not Grow Old [3D], Burn the Stage: The Movie). Audiences were also given a return glimpse of the Paul Schrader that has been hiding in the world of DTV/VOD/SVOD over the last eight years along with a few strong films that snuck into mainstream conversation (The Rider, Thoroughbreds, Unsane, Cold War ['18], Annihilation). And, like every year, everyone ignored a film except for Bilge Ebiri (Where is Kyra?).
2019 seems to be on track for about the same with whatever holdouts we'll get from major festivals and the Spring releases of Chinese indies An Elephant Sitting Still and Long Day's Journey Into Night. And we'll have to figure out how we'll ever get around learning comic book characters can die and come back to life in the same release year but I've got faith in audiences.
All films I chose vaguely follow the M'DA school of having at least a one week theatrical release in New York and a domestic U.S. release in 2018. I was an idiot and didn't see Minding the Gap until the very end of the calendar year but I stand by my assembled ten favorites/stand-outs/pointless numbering. On with the wrong opinions…
A mining town in Arizona gets together to understand what happened over a hundred years ago when owners of a mining company deported the workers that attempted to unionize. Today (in 2017) Bisbee has a population just north of 5,000 and what'd you'd expect to find: a downtown strip, craft beer and a vibrant community that still wants to explore what happened all those years ago.
Greene and his crew record the town's preparations for the re-enactment from meeting actors, staging musical numbers and crafting a narrative within a narrative about how new transplants and families deep roots deal with their legacy. One of the near perfect characters involve a family whose uncles were separated (one deputized to make arrests during the event, one actively unionizing miners) and died without ever seeing each other again.
Image/Illustration: Cinetic Media/jl
Dirs. Véréna Paravel & Lucien Castaing-Taylor
"A documentary about Issei Sagawa" seems like it should involve a Vice bumper but instead we're given the Havard University Sensory Ethnography Lab's glimpse at what life with Sagawa is through a series of slow, dream-like interviews. Assisted by his brother and a cosplaying nurse, Sagawa legacy is explained and even the morbid lengths such a celebrity can be taken from an autobiographical comic book to a snippet of an extreme fetish video he was featured in.
Less traditional talking head doc than a surreal display of light and bokeh over actually explaining what's happened to the Sagawas over the years. As Issei is content to pass himself on (as a meal, natch) it is his brother Jun who reveals that his brother, Issei, inspired him to accept the more fringe aspects of both their personalities. It doesn't hurt that a live-in maid is also a cosplayer, ending in a wordless sequence that's as surreal as Sagawa himself is terrifying even as a frail, withered man.
Image/Illustration: Grasshopper Films/jl
Assembled in block letters on a sign outside First Reformed Church is a simple and poignant question for all: "WILL GOD FORGIVE US?"
Reverend Ernst Toller (Ethan Hawke) grapples with this and nearly a year later audiences still debate whether He did or not. Struggling with advancing his own comprehension of faith and spirituality, Toller is asked by a new constituent (Amanda Seyfried) to check in on her husband (Philip Ettinger) who doesn't want to bring his child into the world. The conversation between Hawke and Ettinger is one of the best moments this year as Toller reveals he too was a father and the consequences of what he did to his child turned him to the church.
A bit of good timing saw Mubi program Paul Schrader's 1992 Light Sleeper last fall and it Dafoe's "John LeTour" is a wonderful preview of how he evolved his "man in his room" must keep going toward something more than getting lost in his journals.
Image/Illustration: YouTube - A24/jl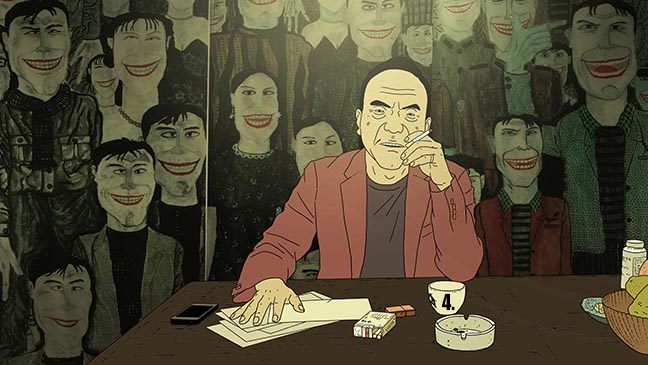 One of the better crime dramas out of 2018 (sorry Den of Thieves) follows a small town dealing with a robbery that leads to a chase that leads to an assassin that leads to an internet cafe that leads to a brief moment of national song and it all wraps up because of bad drivers. I was surprised this had a nice semi-wide release and knew nothing about Liu but had heard of his 2010 animated feature Piercing I.
His use of a stiff but hyper realistic animation forces attention to the audio cues and conversations unfolding over this hellish day. It also comes in as one of the shortest features in 2018 at 77 minutes, which puts an emphasis to keep moving from character to character until it comes to pull a Paul Haggis.
Image/Illustration: Strand Releasing/jl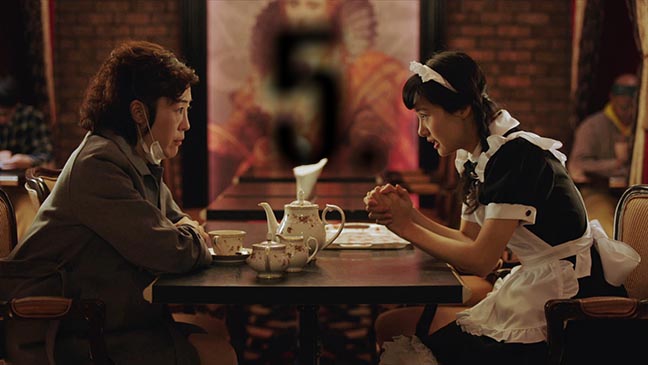 Setsuko (Shinobu Terajima), a middle-aged salarywoman, is begged by her niece to adopt the debt of a (obviously) shady English course and in the process becomes enamored with her teacher John (Josh Hartnett). Thinking she's found a new outlet out of her dead-end secretarial job, Setsuko becomes Lucy and looks forward to her ongoing lessons.
But when her niece runs off to America with John, it's up to Setsuko and her sister to straighten out their family and fight along the way with the most dramatic leap of faith from 2018. 
Image/Illustration: Film Movement/jl
Released in 2018 in the U.S. by Oscilloscope, The Road Movie takes the premise of Dean Fleischer-Camp's Fraud and strips away the faux-narrative: this is just raw footage shot across the roads and streets of various Russian locations. There's the drunk woman that runs screaming toward a car, banging on the hood and windows, the crash of a meteor and a driver turning a corner to find a tank trying to align itself in the middle of the street. What Kalashnikov captures is like Short Cuts taken to its extreme as people in a country record everything simply to prove their real lives are stranger than fiction.
One thing to note is The Road Movie serves as a time capsule according to the credits where Kalashnikov documents and sources the clips he uses. One of them, impossible to tell which after an initial viewing, has been deleted from the Internet. And now it lives on in DCP.
Image/Illustration: Oscilloscope Laboratories/jl
What a great year for Soderbergh to be overshadowed in two different projects. Mosiac, his series that ran both on HBO and as a companion mobile-and-desktop app, tasked its audience to unravel a story as they saw fit and let bias be their own whether by accident pushing forward through a "binge-watch." And then there was Unsane, the strongest performance from Claire Foy when she was kept grounded in First Man and no one seemed to watch The Girl In the Spider's Web.
As Sawyer, Foy is all nerves and close-ups as she lives in fear of her stalker David. Finally having enough of her own paranoia she opts to go in for free counseling—and then becomes trapped in a doctor-appointed hold for a 24-hour stay that accrues more time after lashing out at an orderly she mistakes for her stalker. And then the next day her stalker, David (Joshua Leonard) is handing out pills inside the hospital.
You may also know this for being "the movie Soderbergh shot on an iPhone [7 Plus]." More than an advertising gimmick it is a neat concept at seeing what our phones are capable now when partnered with a few thousand dollars worth of gimbals, anamorphic conversion lenses and cradles. One of the final sequences set inside a padded room show off just how much creativity this new camera can give someone like Soderbergh who's willing to push fames into awkward and voyeuristic angles.
Image/Illustration: YouTube - Bleecker Street/jl
A day or two after I saw this I had an impromptu conversation with someone who said The Rider would've been great if two scenes had been shown in opposite order.  But it's easy to play Monday morning quarterback after you've witnessed the ongoing trials of the Blackburn family (played by real life family members Brady, Tim and Lilly Jandreau) and Brady coming to terms with his life-long dream being over.
Zhao and her DP Joshua James Richards treat South Dakota as an expansive purgatory for Brady as he recovers from his injuries and puts off the question of whether he'll ever ride again over being forced into retirement. The Rider's somber message stresses that the most important lesson is knowing when your dreams are over and whether you're strong enough to find a replacement.
Image/Illustration: Sony Pictures Classics/jl
If you want to be cute, this is the darkest film of the year next to Solo: A Star Wars Story.
It's also one of the strongest independent films of the year that went unappreciated and unseen despite a very terrifying reality. 
Image/Illustration: YouTube/jl
Nicholas Cage is the most unpredictable 10-sided die in the world. Over the year we got critical roles with Mom and Dad ("Brent Ryan (Dad)"), Spider-Man Into the Spider-verse ("Spider-Man Noir") and Teen Titans Go! To The Movies (It's actually too good to ruin who he plays). In the same year we got roles that seemed to edge disastrously close to fails (Looking Glass, 211, Between Worlds) and then there was "Red Miller" in Mandy.
Through Cosmatos' direction (and his co-writer Aaron Stewart-Ahn), Cage inhabited a broken down loner that found a reason to go home at the end of the day to the Crystal Mountains and Mandy (Andrea Riseborough). Like a superhero hiding in retirement, Red spent his nights along side his partner thinking up cosmic comic book rivalries and watching old horror films that could never become real. And then the end of his world happens led by a charismatic man-child and commanding the four horsemen (or just some dudes on enough LSD to think so) and Red Miller goes for the closest thing to help him suit back up to take on the bad guys in one of the best scenes of 2018: Pantless, bloody Nic Cage in a bathroom and making a subtle motion from the opening into unleashing his "hero" once again into a twisted landscape.
Image/Illustration: RLJ Entertainment/jl
OTHER STUFF FROM 2018:
Best Film That Got Stealth Dropped The Weekend Before The End of the Year and Is One of the Funner Films of 2018: Clara's Ghost
First Film of 2018: Molly's Game
Last Film of 2018: Minding the Gap
Total Number of Films Watched That I Remembered to Log on Letterboxd: 192
Best Netflix Film We'll Come Back Around On One Day: Mute
Best Video Game That Ate Up Too Much Time: Dead Cells
Best Video Game I 100 Percent Completed And Then DLC Came Out So I Did Not Have It 100 Percent Completed: Marvel's Spider-Man
Most Underrated Use of Nic Cage (live-action): Mom and Dad
Most Underrated Use of Nic Cage (animated): Teen Titans Go! To The Movies
Most Repeated Viewings of a Film: Mandy (six times between September 2018 and December 2018: one theatrical, four digital, one BD)